About The Show
"The show works well! It's different from anything else on the air, everyone can relate to it!"
—Brian O'Neil, Operations Manager, WLEA
This is the show that's the Voice of Manufacturing! Every week, your listeners will hear the latest on business, manufacturing and the economy. From the shop floor to the C-Suite, Manufacturing Talk Radio covers the trends impacting everyday Americans. Hot topics include Made in the USA, Hiring Challenges, B2B Marketing, Supply Chain Ripples, Global Conflicts, Recession Issues, Putting the "Cool" Back in Manufacturing, and more. Now in its tenth year with over 700 broadcasts, listeners AND advertisers love it!
Meet the Hosts
Host LEW WEISS (left) began working in industry more than 60 years ago. Widely known as a manufacturing innovator and thought leader, he created Manufacturing Talk Radio, now with over 700 episodes. It's the only radio show discussing the challenges and opportunities in manufacturing. The show has a massive online audience on Google Play, Apple Podcasts, Spotify, over a dozen other listening apps, and more. LEW is commited to the success of your station. He's available to voice custom opens, closes, tags and promos, and for live phoners to promote the show.
Co-host TIM GRADY (right) brings more than 25 years of knowledge as a senior strategist and business advisor to companies of all sizes in more than thirty industries, advising them on revving up revenues, macro and micro marketing, strategic selling, optimization and website ergonomics, data mining, and other factors that can boost operations and profits.
Show Clock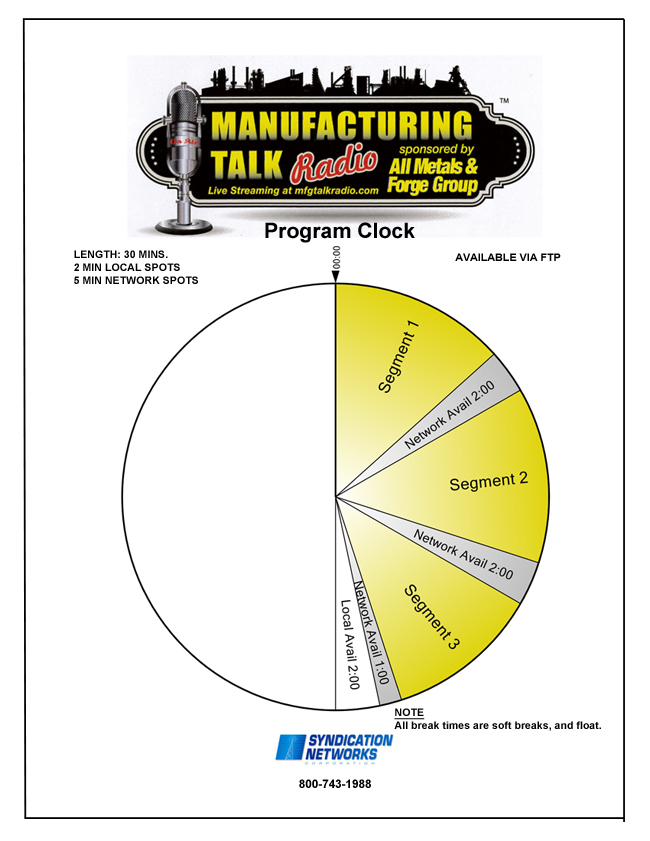 Hear The Demo
Please Fill Out This Rapid-Response Form and We Will Send You Demos Immediately.
NOTE: Shows are only available to licensed, over-the-air broadcast radio stations.